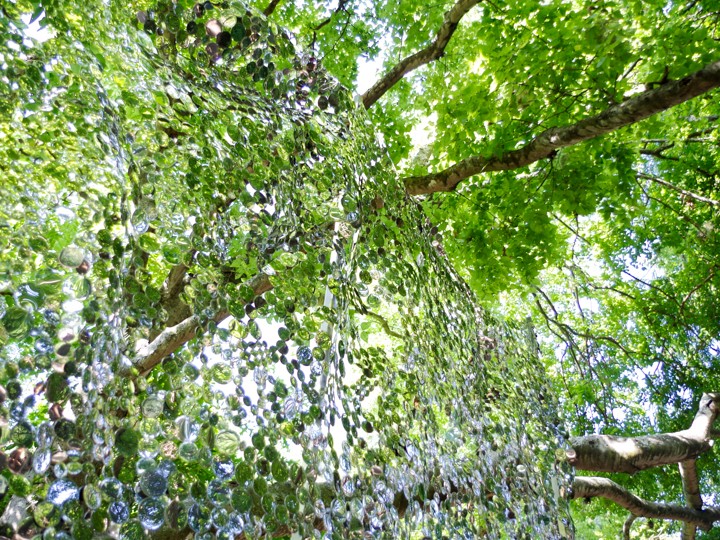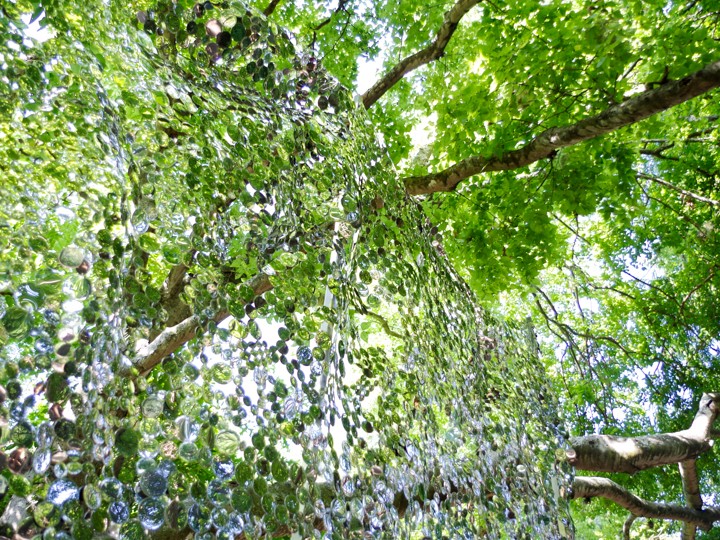 Scattering Screen, 2016
Installation at the San Antonio Botanical Garden in collaboration with Blue Star Contemporary Art Museum, San Antonio, TX, NOw at Crystal Bridges Museum of American Art
June 30, 2016 - Spring 2017
Stainless steel and stainless steel wire
h. 108 in x w. 216 in x d. 28 in (274 x 548 x 71 cm)
Originally commissioned by Blue Star Contemporary Art Museum, Collection of Crystal Bridges Museum of American Art
Press Release
Blue Star Contemporary is pleased to partner with the San Antonio Botanical Garden to present a newly commissioned artwork by renowned Brooklyn-based artist, Alyson Shotz. For her yearlong exhibition at the Garden, Shotz has conceived a large-scale freestanding steel sculpture, which will interact with viewers and its natural surroundings. Known for ethereal artworks that build on natural phenomena and play with human perception, her piece for the Garden is a site-specific installation that encourages viewers to engage with the Garden landscape in new ways.
Of this new work, Shotz says, "Scattering Screen is a sculpture that explores the space between things. The small mirrored circles reflect light and scatter the visible surroundings into thousands of tiny pieces, shifting and moving across the sculpture like an analog screen. The play between the reflections and spaces between reflections draws attention to the idea of solidity itself as the sculpture creates an optical continuum where negative and positive space continually intertwine.
"I also wanted to look at large-scale steel sculpture in a new way. Instead of creating a solid and heavy welded piece, like most public metal sculpture, I've made something flexible and light and permeable. It's made by knitting the metal together with wires instead of welding. The steel acts more like a fabric than a solid unchanging object."
Alyson Shotz's work has been widely shown internationally and can be found in the permanent collections of such notable institutions as the Blanton Museum of Art at UT Austin; The Solomon R. Guggenheim Museum, New York, New York; The High Museum of Art, Atlanta, GA; Hirshhorn Museum, Washington, D.C; San Francisco Museum of Modern Art; Storm King Art Center, Mountainville, NY; and the Whitney Museum of American Art, New York, New York; among others. Her artwork for the Garden will be the first public presentation of her work in San Antonio, TX. Ms. Shotz wishes to extend her gratitude for the hard work of her assistants, Margaret Lee, Meredith McDevitt, Osiris Zuniga, and Kimberly Nam.