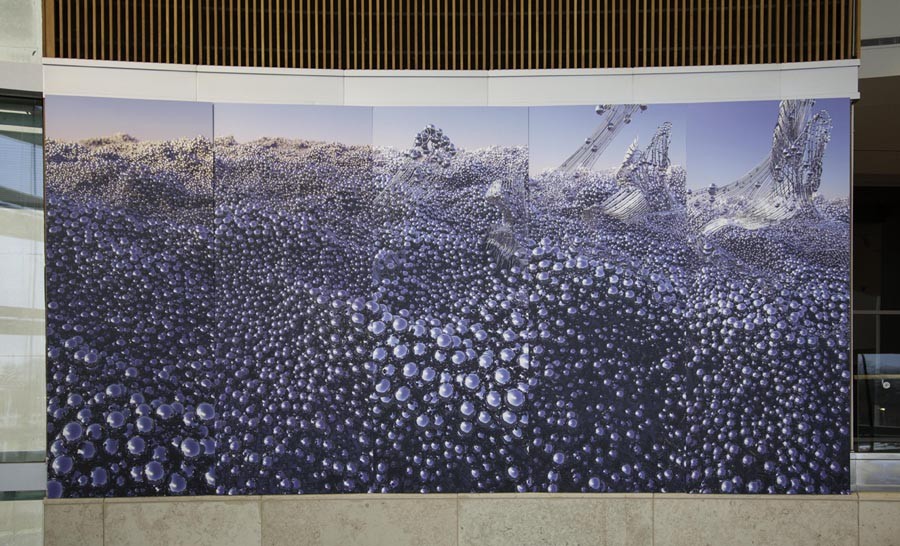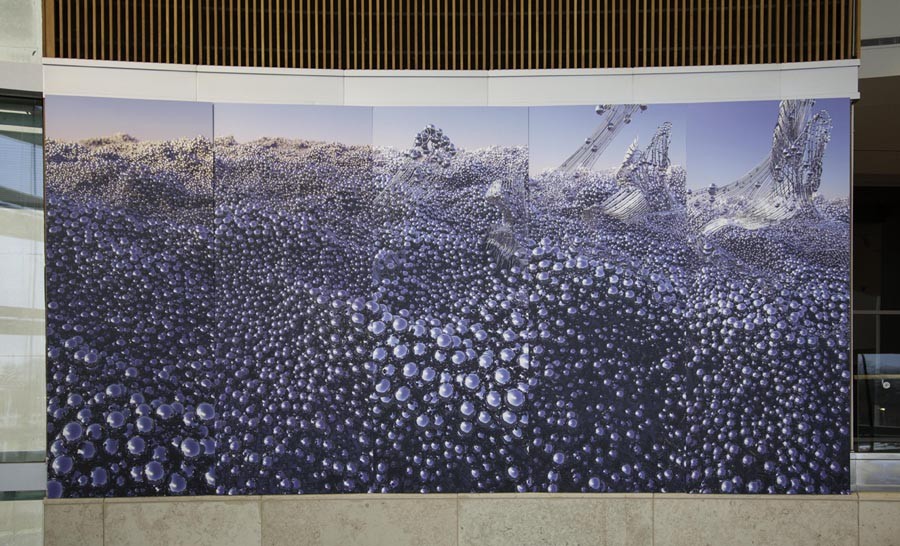 FLUID STATE, 2012
SOLO EXHIBITION AT THE INDIANAPOLIS MUSEUM OF ART
MAY 10, 2012 - JANUARY 6, 2013
PRESS RELEASE
The Indianapolis Museum of Art today announced that artist Alyson Shotz will create a new installation of her works for the IMA's Efroymson Family Entrance Pavilion series. In response to the site, Shotz will adapt her sculpture Geometry of Light, and display it in conjunction with her animation Fluid State and a series of large-scale stills captured from the animation. Alyson Shotz: Fluid State will be on display from May 10, 2012, to January 6, 2013 and will mark the first time the entrance pavilion will combine multiple artworks by an artist.
Shotz creates sculptures and installations that explore the basic elements of the physical world— light, gravity and space—through the use of commonplace and industrial materials such as piano wire, glass beads, straight pins and mirrors. Geometry of Light is Shotz's response to the question: "What would it look like to see light stopped in time?" The work is composed of circular forms hand-cut from plastic Fresnel lenses (magnifying lenses ridged with concentric circles to focus light), which Shotz has strung on stainless steel wire and interspersed with silvered glass beads. The site-specific installation was first installed at Espace Louis Vuitton Tokyo and will be adapted to the architecture of the Efroymson Family Entrance Pavilion, attaching to the glass- paneled walls with suction cups and extending across the space. Natural light will filter through the lenses at varying angles and color temperatures, activating the work and allowing the sculpture to reveal time through the movement of the sun throughout the day.
This exhibition will mark the U.S. premiere of Shotz's digital animation Fluid State (2011-2012), created in collaboration with animator Todd Akita, with a newly created sound track by composer Simon Fisher Turner. Fluid State transpires over a complete dawn-to-dusk cycle, beginning with a depiction of an undulating ocean of reflective spheres. As bright midday arrives, plumes of silver lines and translucent droplets emerge from the sea and spiral into the sky. Out of this mesmerizing vortex, colorful organic forms appear briefly and fall away. As darkness sets in, the whirling mass of lines resolves into the animation's opening image, and the process begins again. This strange and beautiful animation is a dynamic visualization of Shotz's ideas about the creation of matter and organic life.
In addition to Geometry of Light and Fluid State, Shotz will also display a new series of large- scale stills captured from the animation, which will be printed on graphic film and attached to a series of panels on the walls of the Entrance Pavilion. The sequence of stills from Fluid State will create a kind of time lapse landscape image that wraps around the space.
"This carefully considered juxtaposition of works sets a sculpture about light stopped in time against a time-based exploration of the creation of matter," said IMA curator of contemporary art Sarah Urist Green. "Shotz's works have always dynamically visualized the elemental phenomena of nature, but with this new installation she is addressing the subject of time in a more focused way than ever before."
Shotz's sculptures and installations are grounded in her investigation of scientific concepts and theories, which she uses as the starting point for her installation at the IMA and for past works such as Wave Equation (2010), Allusion of Gravity (2005), and The Structure of Light (2008). Her immersive sculptures and installations visualize unseen forces and create the remarkable illusion of volume with lightweight and flexible materials. Shotz asks universal questions about what the world is made of--an idea she considers essential to the medium of sculpture and to the making of art in general.
Alyson Shotz: Fluid State is part of the Efroymson Family Entrance Pavilion series launched in February 2007 and made possible by a $2.5 million grant from the Indianapolis-based Efroymson Family Fund. The works are installed on a rotating basis with a new commission from a different artist approximately every six months. Artists who have previously exhibited in the space include Mary Miss, Ball-Nogues Studio, Heather Rowe, Tony Feher, Orly Genger and Julianne Swartz, among others.
Geometry of Light, 2011 - 2012
Cut plastic fresnel lens sheets, silvered glass beads, stainless steel wire
600 x 359 x 157 inches (15.24 x 9.11 x 3.98m)
Movement in Time, 2012
Solvent inkjet prints on vinyl in two parts
120" x 240"
Fluid State, 2011
Digital animation
2:45 min.